Advances in orthodontic treatment is not only perfecting smiles, but also correcting misaligned jaws and teeth. Misalignments can impact chewing, oral hygiene, and they may cause future jaw joint problems.
Teeth that are not correctly aligned can be difficult to floss, which can lead to gum disease and tooth decay. A tooth that protrudes or that create a cross bite can break. The teeth can also wear uneven. An open bite is when the teeth do not close together. The upper and lower teeth do not come down on each other. This condition can cause speech impairments. All misaligned teeth can cause pain, TMJ, gum disease, or cavities.
Orthodontic brackets are an integral part of traditional braces and act like handles that hold the arch wires that move teeth. The small squares are typically bonded directly to the front of each tooth and come in a variety of styles and sizes. Wazio Orthodontics specializes and provides many different types of braces to our patients, making it easy for every individual to have the best treatment option available to fit their unique goals and needs.
Few people are lucky enough to have perfect teeth, but orthodontic treatment can make a huge difference to you or your child. Our team only recommends and uses the highest quality, clinically proven best treatments for our patients. Investing in high quality braces and materials will lead to the best, fastest, healthiest results.
Today's orthodontics offer more kinds of braces than ever before. Check out your options below.
These are the most common type of braces. Made of nickel-free high-grade steel, they are much smaller and more comfortable than those in the past. We offer a variety of colored elastics which may be changed at most appointments.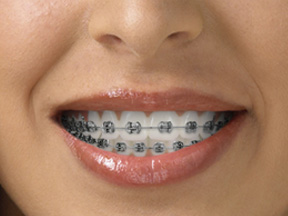 Made of a translucent tooth colored material, these are the most popular among adult patients. They are difficult to see unless you are very near the patient's teeth. However, the brackets are more fragile and the elastic ties can become discolored between appointments.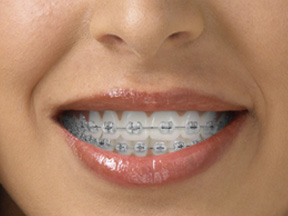 The Invisalign System for adults is a series of clear, removable templates that fit over the teeth. Generated by computer simulation, they gradually move the teeth for the correction of some bite problems. Dr. Wazio is a Invisalign Certified Orthodontist.